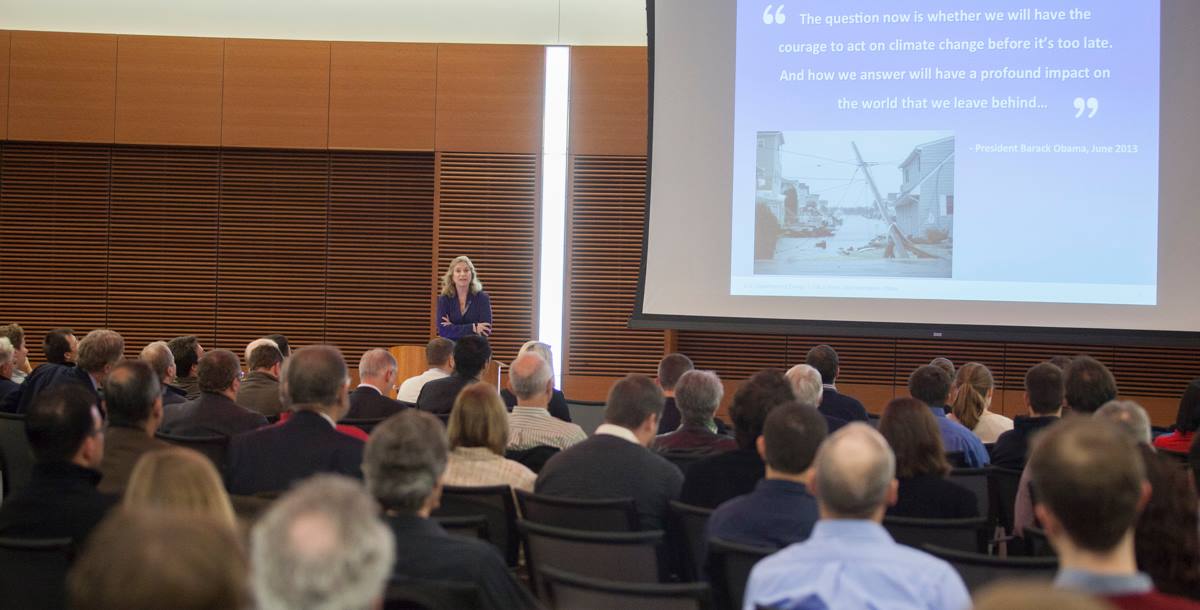 In the 21st century, cities will account for 90 percent of global population growth, 80 percent of CO2 emissions, and 75 percent of global use of energy, water and food. For the first time in history, the majority of the world's human population resides in cities. The United Nations estimates that by 2050 this number will grow to almost three-quarters of the world's population. While global population approaches ten billion, large urban areas are becoming megacities. People are moving to cities to find employment, education, health care, arts and music and higher standards of living. The success of these growing urban communities depends upon ample supplies of water, food, and energy, as well as an understanding of the energy demand, use, and impacts associated with providing these resources both reliably and sustainably.
The 2014 Energy Summit will bring international stakeholders to UW-Madison for a robust discussion of pressing technical and policy-related energy issues facing the world. With a focus on addressing energy challenges and demands associated with urbanization and the growing population, the program will unite prominent industry leaders, researchers, policymakers and students. Attendees will connect with UW-Madison resources, network with one another and share perspectives on the future of energy.
See photos from this year's event!
Keynote Speaker:
Alice Madden, Principal Deputy Assistant Secretary, Office of Intergovernmental and External Affairs, U.S. Department of Energy
As Principal Deputy Assistant Secretary for Intergovernmental and External Affairs in the Office of Congressional and Intergovernmental Affairs, Alice Madden serves as the interface between the U.S. Department of Energy and state, local, and tribal governments, and other relevant constituencies. Under her leadership, the Office of Intergovernmental and External Affairs facilitates the exchange of information between the Department and stakeholders regarding the development and implementation of energy policies and programs, and fosters an active dialogue with constituencies to ensure their views are considered as part of the Department's decision-making processes.
Featured Panel: Perspectives on Future Cities
View featured speaker biographies.
Topics and Speakers (Click title for more info):
Water-Energy Nexus and Sustainable Supply
Burgeoning water demands in energy, agriculture and other sectors, coupled with depleting suitable water supplies and a changing climate, is leading to water stressed conditions in many regions globally. Improved water management and technologies are increasingly being demanded. The panel will discuss approaches toward sustainable water quality and quantity based on their extensive experience and expertise.
Sustainable Energy for Global Cities
Future cities energy needs will likely come from carbon-free sources and conversion technologies; i.e., nuclear, renewables and grid integration. The panelists will focus on their experiences and activities in the advances related to such technologies both here in the United States (California and Wisconsin) as well as in Europe (France). Opportunities and challenges will be the focus of panel presentations and discussions.
Energy Planning and Policy Issues
Governments play an important role in planning future energy systems for several reasons, including: historical precedents from the 1930s; market failures such as natural monopoly and pollution externalities; as well as public reliance on energy as critical infrastructure. Regulators are challenged with making decisions in a dynamic environment due to an evolving market structure, new technology, and changes in public preferences, among others. The three panelists have all served as commissioners of state public utility regulators and will share their experiences with some of the key current decisions in state-level energy planning.
The consumption of energy for residential and commercial buildings, transportation and industrial activity has a significant impact on urban air pollution in all regions of the world. As air quality issues are becoming a greater concern for human health and welfare, there is a great need to consider air quality impacts associated with transformative changes in the energy sources and urban infrastructure that are directed climate change mitigation and urban sustainability. This session will discuss the linkages between the consumption of energy, air pollution, and the human health impacts of air pollution and how the transformations of power generation, transportation, and industrial sources and their emissions can benefit human health and welfare.
Managing Weather and Climate Risks to Urban Electricity
The US electricity infrastructure consists of an aging stock of power plants and large-scale transmission and distribution equipment, linked together in wide networks vulnerable to high winds, heat, or precipitation anywhere across the region. The large-scale grid thus increases the vulnerability of urban areas to blackouts, while limiting control of local governments over their energy systems, weather risk, and efforts to reduce carbon emissions. This session will examine the impacts of weather and climate on urban electricity, considering weather prediction, system vulnerability, and decision-making under climate and weather risk.
Energy-Efficient Urban Transportation Planning
Challenges in energy use for urban transportation will continue to create environmental impacts and stress our global resources. As supply and demands change, there is a need to optimize the use of energy resources from fossil fuel sources and seek opportunities to use more carbon-neutral fuel sources. The use of transportation system planning and design will help to efficiently use energy resources as well as improve performance and safety.
Date & Time
Location
Discovery Building and Union South, University of Wisconsin-Madison