A recent study by the Brookings Institute on clean energy technology patents and a Bloomberg analysis on U.S. clean energy investments are providing food for thought on the status of energy innovation.
According to the Brookings Institute, following more than a decade of growth, clean energy patents have fallen since 2014. Whether this is a just a short-term decline or overall plateau period will be determined in the coming years. But given the Trump Administration's proposed cuts to federally funded energy research – including the call to eliminate ARPA-E, the federal government's energy research program for large challenge innovation – it's fair to suggest there may be challenges ahead.
So what does the new study find on energy technology patents?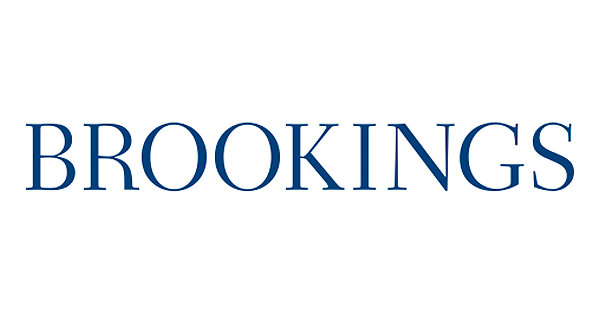 In the period from 2001 to 2014, clean energy technology patents had steady growth outpacing all other U.S. patents during that timeframe. Specifically, clean energy technology patents were less than 15,000 in 2001 and doubled by 2016 to about 32,000 annually. After more than a decade of growth, the most recent period studied (2014 to 2016) saw a decline of 9 percent. In a finding that links federal investment to patent growth, the report also shows that the biggest growth during that decade came after the administration of former President Barack Obama invested $27 billion into energy efficiency and renewable energy research as a part of the 2009 stimulus package.
The report also fully underscores the importance of research to driving technology innovation and economic opportunity. First, as the energy economy transitions from the legacy, high carbon system to a clean technology system, it is critical to drive new innovation that can bring down costs, create efficiencies, and lead to new market opportunities. Consider also that energy innovation represents a massive $1.4 trillion global business opportunity, and that the U.S. is competing with the international community for its share of this clean energy economy. For example, China invested $17.9 billion into clean energy in the first quarter of 2017 while the U.S. invested $9.4 billion during the same time frame, according to the Brookings Institute.
The Brookings report also contains some analysis of the geographic spread of patents during the timeframe measured. Madison, Wisconsin, for example, is mentioned as a "highly inventive city" because of its clean energy technology patents per million residents and because the city benefits from metro-regional affiliations with both Chicago and Minneapolis. The project also includes some interactive maps showing the regional diversity of patent activity (but having universities and National Laboratories nearby helps).
Also reported is the share of U.S. clean energy technology patents owned by foreign companies versus U.S. companies. During the 2001 starting point for the study, about 47 percent of the patents were from U.S. owned companies and a similar percent for foreign-owned companies. By 2016, there was a shift to 51 percent of all clean energy technology patent held by foreign owned companies and only 39 percent generated by U.S. companies. While the data and analysis may reflect a globalization of clean energy technology companies, it could also reflect U.S. companies falling behind on the innovation cycle.
What seems clear is that both environmental and economic needs are now driving the need for continuous energy technology innovation. Since energy touches almost every aspect of our daily life and plays a significant role in our economic vitality, the Brookings report makes a strong case for continued federal research funding – and they also do so at a critical time, as Congress begins its budget and policy discussions.
Clean energy investment down 17 percent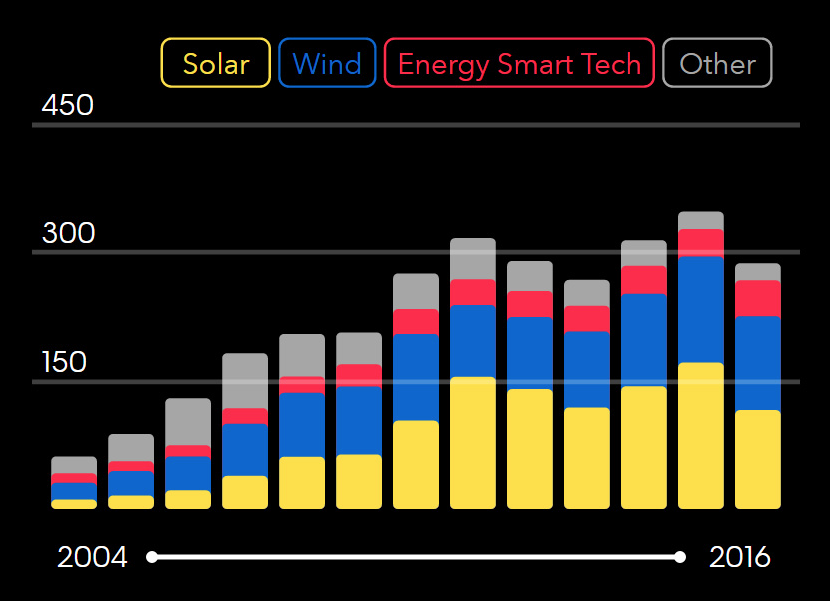 Bloomberg New Energy Finance also recently released their data collection and analysis on global clean energy investment trends. This work shows that global investment in clean energy in 2016 was down 17 percent from the previous year. The decline was due partially to a slowdown in the Chinese economy and overall technology cost reductions. The report also points to some positive indicators including that renewable energy installations are up in 2016 and that investments in renewables topped fossil fuel investments by a two-to-one margin. With the establishment of the Paris Accord and its energy de-carbonization goals, the likelihood of further global clean energy investment remains strong.