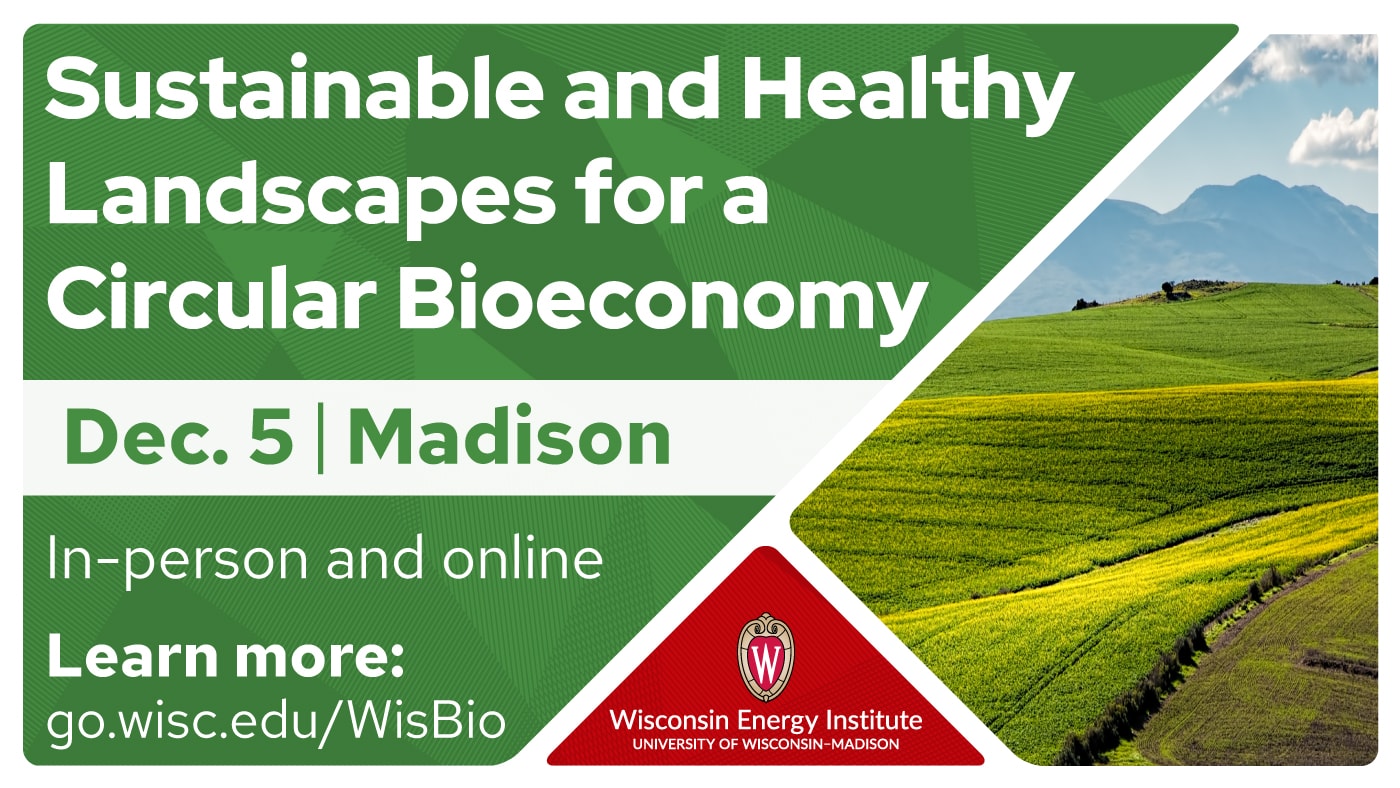 Tuesday, December 5, 8:30 am – 4 pm CT
Breakfast & Networking - 8:30 am
Online program starts - 9:00 am
FREE - Online registration still open (In-person registration closed)
Register for the conference »
Healthy soil and agricultural ecosystems are essential to sustainably grow food, feed, fiber, fuels and other products for Wisconsin's bioeconomy. Emerging techniques and knowledge in soil science, biochar, agricultural systems, and regenerative agriculture together with industry and policy drivers for sustainable supply chains are motivating changes to longstanding agricultural practices. These factors, along with the growing recognition of the benefits of and financial incentives for carbon sequestration hold the promise of improving both the health and profitability of our rural landscapes.
Join us on Tuesday, December 5, to learn more about strategies for sustainable and healthy agricultural landscapes in Wisconsin and connect with other stakeholders of the bioeconomy. There is no cost to attend and breakfast and lunch will be provided.
The conference will address topics including:
Principles to advance food, energy, water, and ecosystem security.
The intersections of carbon, water, and nutrient management.
Soil carbon.
Case studies of land management strategies including regenerative agriculture, biochar, silvopasture, and the biodiversity benefits of riparian strips.
Register for the bioeconomy conference
Agenda
8:30 am – Breakfast and Networking
9:00 am – Welcome and Overview
9:10 am – Soil Carbon Overview
9:50 am – WiSys Sustainable Agriculture NSF Regional Innovation Engine
10:10 am - Case Studies in Life Cycle Assessment
10:30 am – Break
10:40 am – Land Management Strategies

Regenerative Agriculture – Erin Silva
Grassland 2.0 - Restoring Prairie and People to Agriculture – Randy Jackson
Soil Benefits of Biochar – Thea Whitman

11:40 am – Interconnections in Carbon/Water/Nutrient Management

Microbial Communities & Ecosystem Functions – Zac Freedman
Nutrient Mapping, Organics Marketplace, and Cyanobacteria – Victor Zavala

12:20 pm – Lunch
1:00 pm – Principles to Advance Food, Energy, Water, and Ecosystem Security
1:30 pm - Interconnections in Carbon/Water/Nutrient Management (cont.)

Water Quality Impacts – Sara Walling

1:50 pm – Land Management Strategies (Cont.)

Silvopasture – Diane Mayerfeld

2:10 pm – Break
2:20 pm – Policy Insights Regarding Soil Carbon and Sustainable Agriculture
2:40 pm – Carbon Markets: Where Soil Health Fits In
3:00 pm – Scaling Soil Carbon Sequestration Through Policy
3:20 pm – Carbon/Nutrient Management and Composting
3:40 pm – Future Bioeconomy Meetings and Closing Remarks
Speakers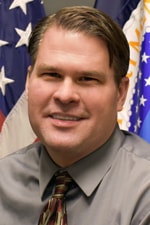 Eric Allness
Assistant State Conservationist – Partnerships, Madison State Office, Natural Resources Conservation Service, U.S Department of Agriculture
Eric Allness serves as the Wisconsin Assistant State Conservationist for Partnerships for the U.S. Department of Agriculture – Natural Resources Conservation Service (NRCS). Eric works with conservation partners to develop NRCS grants and agreements which aim to address natural resource concerns at the local and State level. He oversees over 100 agreement collaborations with a wide diversity of partners which have a total NRCS funding obligation of $40 million.
---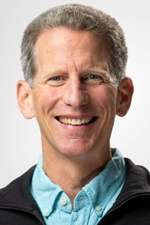 Rob Anex
Professor of Biological Systems Engineering, UW–Madison
Robert Anex is an expert in life cycle assessment (LCA) and systems modeling, particularly as applied to decarbonization technologies and biobased products. His research focuses on prospective analysis of the economic and environmental impacts of policies and technologies in a changing global environment. With Dr. Bu Wang, he is co-founder of Earth Repair Global, Inc., a carbon capture and mineralization company based on technology developed at UW-Madison.
---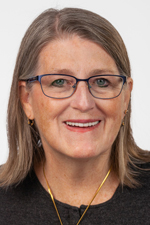 Aldyen Donnelly
Principal, WDA Consulting Inc.
Aldyen Donnelly has been a small business developer and consultant for over 40 years. In the mid-1990s, Aldyen started to work on market-driven strategies to reduce atmospheric carbon concentrations. Having gathered together a Canadian "emission reduction credit" or "ERC" buyers group, Aldyen developed and executed major forward ERC purchase agreements–some "world firsts"–to finance: carbon sequestration in agricultural soils; a stationary fuel cell application; landfill gas recovery and utilization projects; carbon capture and storage projects involving both coal-fired power and natural gas processing plants; modal shift (truck-to-rail) in commercial freight transport; and more. Aldyen also co-authored the Canadian province of Nova Scotia's 2009 GHG Emissions Regulations, the first regulations to establish significant absolute, declining power sector GHG caps in North America. As direct result, Nova Scotia province-wide GHGs were 30% below 2005 levels by the end of the 2016.
---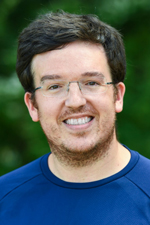 Zac Freedman
Assistant Professor of Soil Microbiology, UW–Madison
Zachary Freedman's research focuses on the ecology, evolution, and environmental significance of microorganisms and whether we can lean on microbes to help save the world. The Freedman research team uses a combination of classical and state-of-the-art techniques to investigate the impacts of environmental changes on microbial communities and their ecosystem functions in natural and managed ecosystems. In the bioenergy realm, the Freedman lab is investigating whether plant-soil-microbial feedbacks can be utilized to improve the nutrient use efficiency of Miscanthus and its associated soil microbiome on marginal lands.
---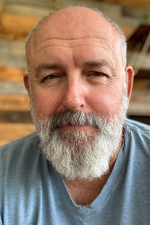 Randy Jackson
Professor of Agronomy, UW–Madison
Randy Jackson and his grassland ecology group study how carbon and nutrients flow into, within, and out of grassland ecosystems. Randy grew up in southern California, played baseball and earned a BS in Environmental Science at UC Riverside, an MS in Natural Resource Sciences at Humboldt State University, and a PhD in Ecosystem Science at UC Berkeley. He joined the Department of Agronomy at UW-Madison in 2003 as part of a 3-person "cluster hire" in Agroecology. Randy teaches Grassland Ecology and co-instructs Introduction to Agroecology with Mike Bell, Claudio Gratton, and amazing graduate student teaching assistants. Randy co-leads the Wisconsin Integrated Cropping Systems Trial (WICST), a 33-year-old experiment in Arlington, WI. He also co-leads Grassland 2.0, a USDA-funded project working to transform agriculture in the upper Midwest to a system that provides for our wants and needs while cleaning water, reducing flooding, and supporting biodiversity.
---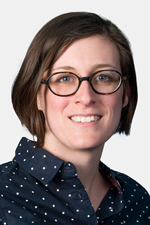 Gretchen Kroh
Managing Policy Advisor, Carbon 180
Gretchen advises on land carbon removal policy for agricultural systems with a focus on the US Rocky Mountains. She previously worked on climate and innovation policy at USDA's Office of the Chief Scientist and holds a BS from St. Edward's University and a PhD from Colorado State University. Gretchen is based in Bozeman, Montana and enjoys spending time in the mountains.
---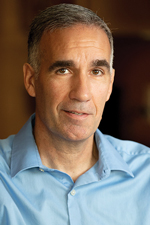 Chris Kucharik
Professor and Department Chair of Agronomy, UW–Madison
Chris Kucharik's research program is largely interdisciplinary, incorporating field work on cropping systems ecology and ecosystem modeling in a framework that is geared towards understanding the impacts of climate change and land management on the provisioning of ecosystems goods and services – more specifically crop and bioenergy feedstock production, water quantity and quality, carbon sequestration, and climate regulation. His field research largely takes place across Wisconsin, and he uses agroecosystem modeling tools across a continuum of spatial scales from the precision agriculture scale to the regional (e.g., Midwest USA) scale.
---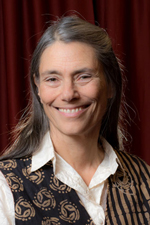 Diane Mayerfeld
Senior Outreach Specialist, Agriculture Institute, UW-Madison Division of Extension
Diane Mayerfeld is the sustainable agriculture coordinator for University of Wisconsin-Madison Division of Extension. She helps educators and farmers learn about sustainable agriculture techniques and resources, including grants from the USDA Sustainable Agriculture Research and Education (SARE) program. Current areas of focus include climate change, working with diverse farmers, and perennial cropping systems. She has a PhD from the Nelson Institute for Environmental Studies at the University of Wisconsin-Madison and researches silvopasture in Wisconsin.
---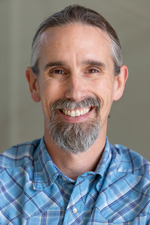 Gregg Sanford
Associate Scientist in the Department of Agronomy, UW–Madison
Gregg Sanford studies biofuel cropping systems and their sustainability. His research seeks to understand tradeoffs in the ability of these systems to provide ecosystem services, which include both provisioning services such as biomass production and supporting services such as carbon sequestration and nutrient retention.
---
Arjun Sanga
WiSys President
Arjun Sanga, president of WiSys, is an expert in technology transfer, intellectual property management and commercialization. Sanga has more than 25 years of experience leading research collaborations, managing intellectual property, closing licensing deals and fostering startup companies. Through his almost ten-year tenure with WiSys, Sanga has piloted and scaled innovative programs and ideas to build an organization that serves Wisconsin's regional public universities in new and creative ways. His strategic planning led to the expansion of WiSys from a technology transfer office to a full-service innovation support system for researchers, innovators and entrepreneurs. In May 2023, the WiSys-led partnership for which Sanga is the principal investigator was awarded $1 million Type 1 development grant from the National Science Foundation's Regional Innovation Engines program."
---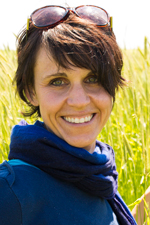 Erin Silva
Professor in the Plant Pathology Department and the Director of the Center for Integrated Agricultural Systems, UW–Madison
Dr. Silva is a Professor in the Plant Pathology Department at the University of Wisconsin-Madison and the Director of the Center for Integrated Agricultural Systems. She holds the Clif Bar Endowed Chair in Organic Agriculture and Outreach within the College of Agricultural and Life Sciences. Her research and extension program focuses on sustainable and organic cropping systems, including cover crops and cover crop-based no-till production, variety selection in organic environments, and the impact of organic management on soil biological and physical properties. Erin has launched a comprehensive organic grain training program for farmers in the upper Midwest, "OGRAIN". Erin works closely with organic farmers and industry members both in Wisconsin and throught the upper Midwest and serves on the Wisconsin Organic Advisory Council. Dr. Silva can be reached by email at emsilva@wisc.edu.
---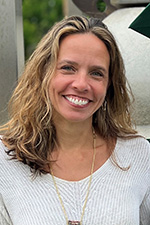 Sara Walling
Water and Agriculture Program Director at Clean Wisconsin
Sara Walling serves as the Water and Agriculture Program Director at Clean Wisconsin. For over 20 years, Sara has worked at the nexus of agriculture and water quality striving to help agricultural producers of all kinds improve their environmental footprint. Sara brings to her role at Clean Wisconsin over 15 years of technical and policy development experience in agricultural nutrient management, agronomy, water quality, and bioenergy while at the Wisconsin Department of Agriculture, Trade and Consumer Protection. Additionally, Sara served as the Agriculture Institute Director at the UW-Madison Division of Extension where she oversaw county extension agents and agricultural education and outreach programs. Sara has a Master of Science in Land Resources and Environmental Science from Montana State University- Bozeman and a Bachelor of Science in Natural Resources and Water Quality Science from the University of Minnesota-Twin Cities.
---
Thea Whitman
Associate Professor of Soil Science, UW–Madison
Dr. Whitman's research is situated at the nexus of soil biogeochemistry, microbial ecology and global environmental change. She works to understand the processes that control soil organic matter (SOM) dynamics and SOM interactions with microbes and minerals. Her lab combines soil biogeochemistry and microbiology with bioinformatics, molecular work and fieldwork to conduct fundamental and applied research with relevance for land-use management, agroecology and climate change policy.
---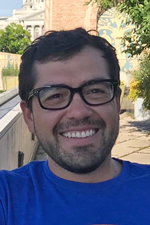 Victor Zavala
Baldovin-DaPra Associate Professor of Chemical & Biological Engineering, UW–Madison
Victor Zavala's research group specializes in the formulation of optimization and statistical models for control, estimation, and system design, and in the development of computational techniques to solve such models on high-performance computers. Applications of interest include infrastructure systems, energy systems, agricultural systems, supply chains, materials, and chemical production facilities.
---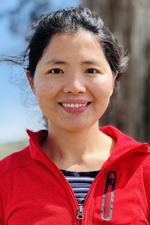 Xia Zhu-Barker
Assistant Professor of Soil Science, UW–Madison
Dr. Zhu-Barker is a Soil Biogeochemist who is dedicated to enhancing our understanding of land management practices and their impact on environmental health. Her research primarily centers on nitrogen and carbon biogeochemical cycles, delving into microbial and abiotic processes related to greenhouse gases and air pollutants, including N2O, NOX, NH3, CO2, and CH4. She is actively involved in addressing challenges related to nitrate leaching, manure utilization, nutrient management, and composting, with a focus on improving water quality, soil health and mitigating climate change. An advocate for climate-smart agriculture, Dr. Zhu-Barker emphasizes dairy environmental sustainability in her work, employing innovative isotopic methods, soil-plant-microbe interaction studies, and process-based modelling.
Date & Time
Location
The Pyle Center (and online)