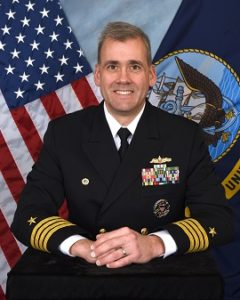 In a free public seminar at 3:30 PM on December 3rd, in room 1115 of the Wisconsin Energy Institute, UW–Madison Commanding Officer and Professor of Naval Science Greg Zacharski will give a talk on energy management in the U.S. Navy.
Abstract:
The 2018 National Defense Strategy outlines a security environment characterized by strategic competition and a "lethal and disruptive battlefield, combined across domains, and conducted at increasing speed and reach," where even the "homeland is no longer a sanctuary." These multi-domain risks are challenging the assured delivery of energy to the Joint forces. While energy is an essential component of warfighting capability, longer operating distances, remote and austere geography, and anti-access/area denial threats are challenging the Department of Defense's ability to assure the delivery of fuel. As the ability to deliver energy is placed at risk, so too is the Department's ability to deploy and sustain forces around the globe.
The Department of Defense (DoD) is the single largest consumer of both liquid petroleum and electrical power in the United States. With a world-wide enterprise of real estate, vehicles, aircraft, ships, submarines, and personnel consuming energy – energy is THE critical enabler for operations, support, and logistics. Uninterrupted procurement and delivery of energy to combat, presence, and support forces around the globe is a strategic imperative. The Department of the Navy – which is comprised of the Navy and the Marine Corps – consumes half of all-DoD liquid petroleum. Additionally, Navy shore facilities must support the energy needs of ships and submarines when they are in port. As such, significant efforts and resources have been invested in research, technology development, implementation of techniques and procedures, and partnering with commercial entities to reduce energy use across the entire Department of Navy enterprise.
Complementary Information:
Date & Time
Location
1115 Wisconsin Energy Institute
Research Areas