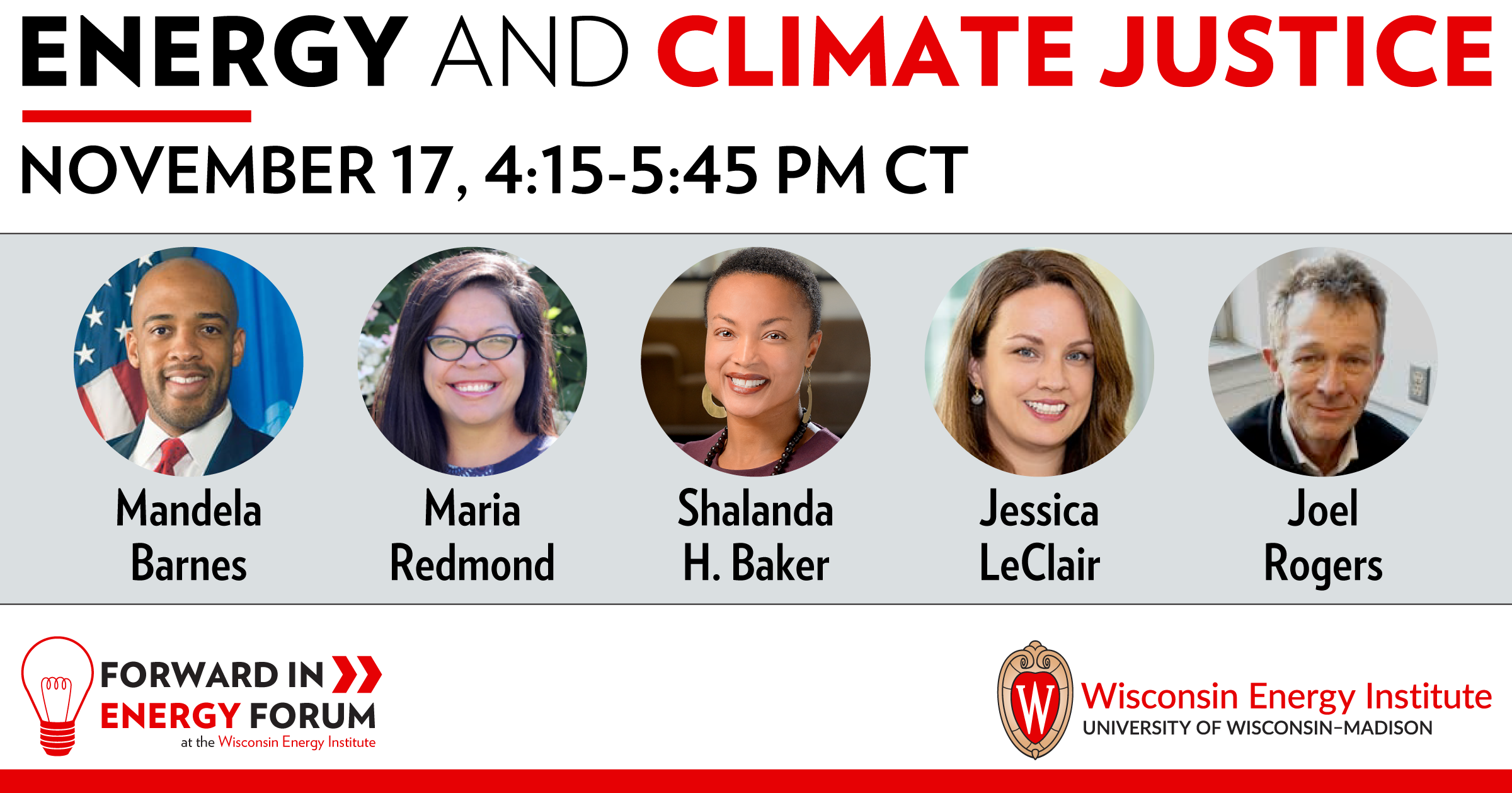 Description
The negative economic and environmental impacts of our fossil fuel based energy system have concentrated effects on communities of color. Centuries of racial segregation, redlining, and unequal pay have left these marginalized groups on land where they face disproportionately high levels of pollution and are more vulnerable to the impacts of climate change. Communities of color also face systemic disadvantages in energy costs, higher energy burdens, and limited access to renewable energy benefits.
Join us on November 17 from 4:15–5:45pm CT for a panel discussion on these issues and how we can address energy and climate justice with introductory remarks from Wisconsin Lieutenant Governor Mandela Barnes.
Introductory Remarks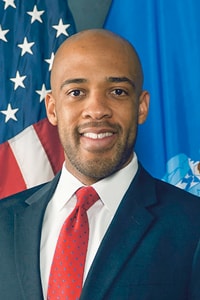 Mandela Barnes
Wisconsin Lieutenant Governor
Mandela Barnes serves as Wisco​nsin's 45th Lieutenant Governor. He is the first African-American to serve as a Lieutenant Governor in Wisconsin, and the second African-American to ever hold statewide office. Born and raised in Milwaukee, Lt. Gov. Barnes is the son of a public-school teacher and a United Auto Workers member, to whom he credits much of his success.
Lt. Gov. Barnes is an alumnus of Alabama A&M University. After his time there, he worked for various political campaigns and in the city of Milwaukee mayor's office, eventually becoming an organizer for Milwaukee Inner City Congregations Allied for Hope, a Milwaukee-based interfaith coalition that advocates social justice. He also worked for the State Innovation Exchange, a national progressive public policy organization.
In 2012, Lt. Gov. Barnes was elected to the Wisconsin State Assembly, where he served two terms. His tenure in the State Assembly included serving as Chair of the Legislature's Black and Latino Caucus and becoming a recognized leader on progressive economic policies and gun violence prevention legislation.
Within his current role, Lt. Gov. Barnes uses a platform of sustainability and equity to fight for solutions that invest in opportunities and fairness for every child, person, and family in Wisconsin, regardless of ZIP code.​
---
Moderator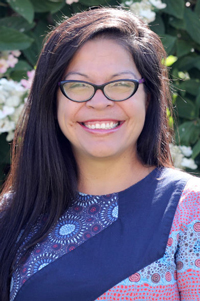 Maria Redmond
Director of the Wisconsin Office of Sustainability and Clean Energy
Redmond serves as the Director of the Wisconsin Office of Sustainability and Clean Energy and is leading the development of a plan that assists the state of Wisconsin in fighting the effects of climate change. Redmond is leading the development of a comprehensive statewide clean energy plan to actively implement the use of clean energy resources and technology to help the state reach a 100% carbon free electricity by 2050 goal, build the clean energy workforce and foster innovation. Redmond has worked for the State of Wisconsin for 19 years and is accountable for planning, administration and oversight of statewide energy programs and regulatory policies. She has significant experience in directing federally funded grant and loan programs, and ratepayer energy efficiency and renewable energy programs.
---
Speakers
Shalanda H. Baker
Professor of Law, Public Policy and Urban Affairs
Northeastern University School of Law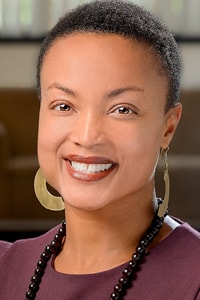 Shalanda H. Baker is a Professor of Law, Public Policy and Urban Affairs at Northeastern University. She has spent over a decade conducting research on the equity dimensions of the global transition away from fossil fuel energy to cleaner energy resources. Shalanda teaches courses on renewable energy development, energy justice, and environmental law and, in 2015, she was awarded a 2016-17 Fulbright-García Robles grant to explore Mexico's energy reform, climate change and indigenous rights.
Before joining Northeastern's faculty, Shalanda spent three years as an associate professor of law at the William S. Richardson School of Law, University of Hawai'i, where she was the founding director of the Energy Justice Program. Prior to that, she served on the faculty at University of San Francisco School of Law. Shalanda holds a Bachelor of Science degree in Political Science from the United States Air Force Academy, a Juris Doctor from Northeastern University School of Law, and an LLM from the University of Wisconsin School of Law, where she also served as a William H. Hastie Fellow. Immediately after law school, before working as a corporate and project finance attorney in both the Boston and Tokyo offices of the law firm of Bingham McCutchen, Professor Baker clerked for Associate Justice Roderick Ireland of the Massachusetts Supreme Judicial Court. Shalanda is also a veteran and former Air Force officer who fought to end the military's "Don't Ask, Don't Tell" policy.
She is the author of over a dozen articles, book chapters, and essays and on renewable energy law, policy, and development. Her book, Revolutionary Power: An Activist's Guide to the Energy Transition will be published in January 2021 (Island Press). She is the Co-Founder and Co-Director of the Initiative for Energy Justice, an organization committed to providing technical law and policy support to communities on the frontlines of climate change. She also serves on the Massachusetts Energy Facilities Siting Board, the Massachusetts Global Warming Solutions Act Implementation Advisory Committee Climate Justice Working Group, the Board of The Solutions Project, and the Board of the Clean Energy Group.
---
Jessica LeClair
Clinical Instructor, School of Nursing
University of Wisconsin–Madison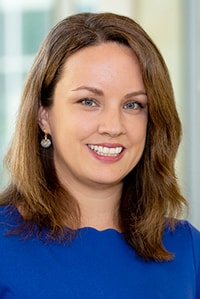 Jessica LeClair is a clinical faculty member at UW–Madison's School of Nursing where she is also pursuing a PhD. Before joining UW–Madison in 2018, she worked as a public health nurse for Public Health Madison and Dane County and as a community health nurse for the Ho-Chunk Nation. Her research interests include environmental and climate justice, the public health impacts of climate change, and building the capacity of nurses to work in the context of planetary health. LeClair is the co-chair of the Sustainable Madison Committee.
---
Joel Rogers
Noam Chomsky Professor of Law, Political Science, Public Affairs, and Sociology
University of Wisconsin–Madison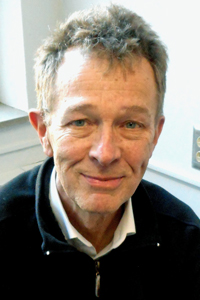 Joel Rogers is the Noam Chomsky Professor of Law, Political Science, Public Affairs, and Sociology at the University of Wisconsin-Madison, where he also directs COWS, the national resource and strategy center on high-road development that also operates the Mayors Innovation Project, State Smart Transportation Initiative (with Smart Growth America), and ProGov21. Rogers has written widely on party politics, democratic theory, and cities and urban regions. Along with many scholarly and popular articles, his books include The Hidden Election, On Democracy, Right Turn, Metro Futures, Associations and Democracy, Works Councils, Working Capital, What Workers Want, Cites at Work, and American Society: How It Really Works. Joel is an active citizen as well as academic. He has worked with and advised many politicians and social movement leaders, and has initiated and/or helped lead several progressive NGOs including the New Party (now the Working Families Party), EARN, WRTP, Apollo Alliance (now part of the Blue Green Alliance), Emerald Cities Collaborative, State Innovation Exchange, and EPIC-N (Educational Partnership for Innovation in Communities Network). He is a contributing editor of The Nation and Boston Review, a MacArthur Foundation Fellow, and identified by Newsweek as one of the 100 living Americans most likely to shape U.S. politics and culture in the 21st century.
Shared Links
Many links to relevant resources and organizations were shared in the chat during the event.
Date & Time
Location
Online - Join from anywhere!
Research Areas