A Grab and Go Teaching Kit
Model the journey water takes at a Wastewater Treatment Plant (WWTP) through a series of hands-on steps around a tabletop model. Learn about our microplastic pollution problem, and discover what happens to the pollutants as they enter and pass through a WWTP. The full lesson and activity cards are below and a kit with the tabletop model is available for loan. Fill out the form below.
Get the Guide!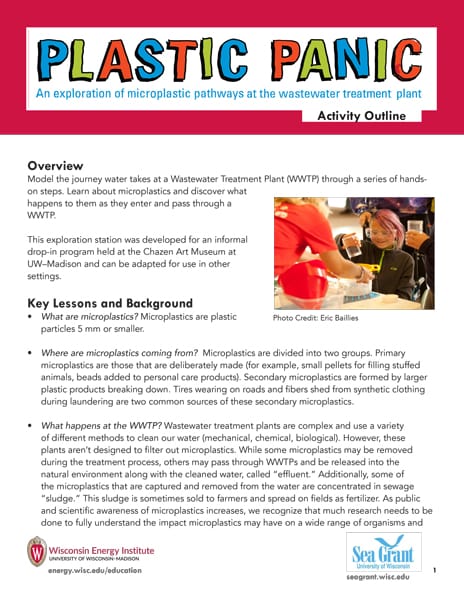 You can view and download our PDF guide to the Plastic Panic Lesson:
Borrow the Kit:
Any adult resident in Wisconsin can loan the Plastic Panic Kit free of charge from the Wisconsin Water Library at UW-Madison. Find more information and request the Kit here. 
Developed and written by: Allison Bender (Wisconsin Energy Institute), Anne Moser (Wisconsin Sea Grant) and Derek Ho (UW–Madison Biological Systems Engineering). Design by: Chelsea Mamott (Wisconsin Energy Institute) and Yael Gen (Wisconsin Sea Grant). Reviewed by: Richard Mealy (WI DNR retired). This project was created in partnership with the Wisconsin Energy Institute and supported by a grant from the National Marine Sanctuary Foundation and the National Oceanic and Atmospheric Administration (NOAA) Marine Debris Program.
Subjects
Engineering
Environmental Science
Topics
Sustainable Energy Systems
Concepts/Skills
Microplastic pollution, wastewater treatment plants
Time Required
15 minutes prep, 15-30 minutes for activity