We are in the middle of an energy transition toward cleaner sources of power and fuel. Partnering with the UW­–Madison Oral History Program, the Wisconsin Energy Institute encourages youth to record conversations with their grandparents, neighbors or friends to capture eyewitness accounts of these changes.
Conducting oral histories is a great way to integrate social emotional learning competencies into STEM and Social Studies content. Students develop listening and conversational skills, inquiry practices, and intergenerational appreciation while "democratizing" history and preserving their narratives as a primary source for future historians. This activity is empowering, while at the same time, provides a venue for students to process emotions surrounding climate change. 
You can learn more about the benefits of using oral history as an educator on the Oral History Association's Webpage. 
Get the Guide!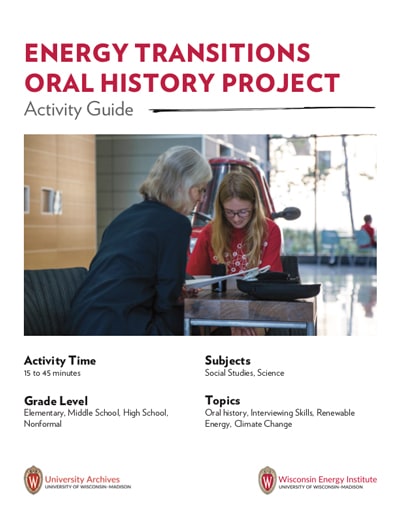 You can view and download our PDF guide to the Energy Transitions Oral History activity by clicking the thumbnail above or here
Listen to the stories
Visit the Energy Transitions Oral History page to listen to others' recordings and learn more about the project.
Staff from UW–Madison's Archives and the Wisconsin Energy Institute are here to support along the way. Feel free to contact agbender@wisc.edu with any questions about the project. 
Energy Transitions Oral History Workshop 2020
Subjects
Earth Science
Social Studies
Topics
Carbon Cycle & Climate Change
Oral History
Renewable Energy
Concepts/Skills
Oral history, Interviewing Skills, Renewable Energy, Climate Change
Time Required
15 to 45 minutes
Required Supplies
Questions list, Writing utensil to take notes, Device to call and/or record your narrator, Interview release form