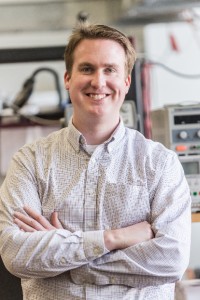 Jean van Bladel Associate Professor of Electrical & Computer Engineering
College of Engineering
Daniel Ludois received his Ph.D. in electrical engineering from the University of Wisconsin–Madison in 2012 and B.S. in Physics from Bradley University in 2006. Dr. Ludois currently serves as a Jean van Bladel Associate Professor of Electrical and Computer Engineering in UW–Madison's College of Engineering and is an Associate Director of the internationally renowned Wisconsin Electric Machines and Power Electronics Consortium (WEMPEC).
Dr. Ludois's research focus has been on broadening the horizons of capacitive coupling via new dielectric materials and high frequency power electronics. Applications include compact wireless power transfer for mobile and rotating equipment, brushless electric machine bearing current mitigation, electrostatic (e-field) machinery, and dual energy cores for integrated inductor-capacitors.
Dr. Ludois is also cofounder and chief science officer of C-Motive Technologies, a start-up business dedicated to producing innovative, energy and cost-efficient electrostatic motors.
Research Interests
Power electronics
Electric machines
Wireless power transfer
Sustainable engineering technologies and practices
Research Areas
Related News