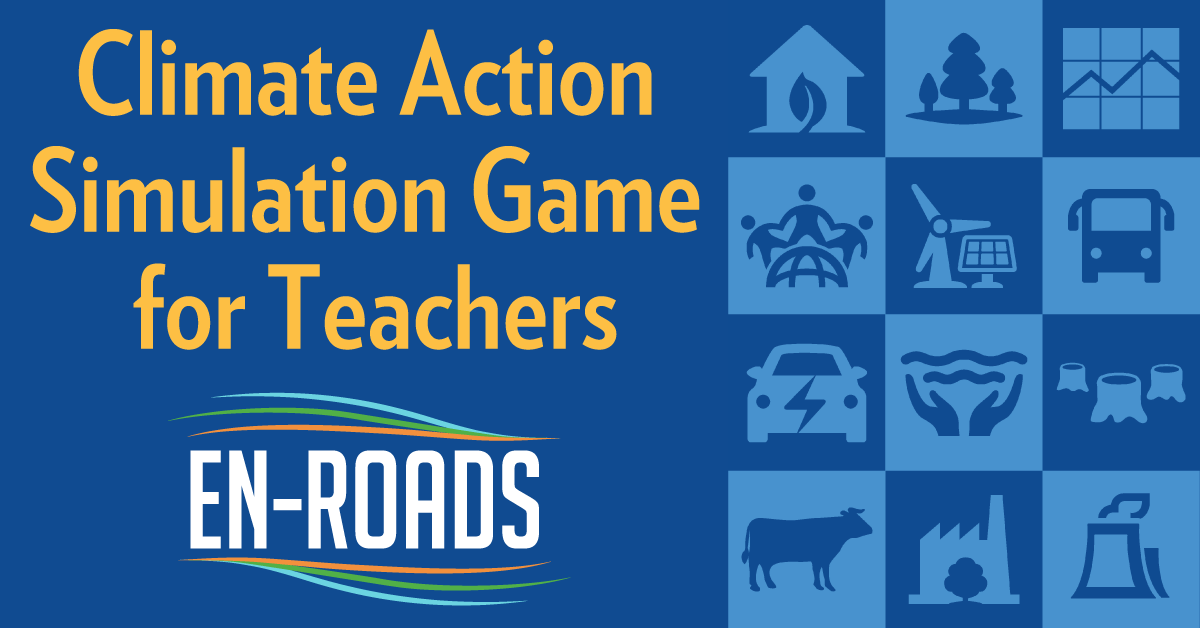 As global leaders gather in Glasgow to reinvigorate their climate pledges during the UN Climate Change Conference of the Parties, you too can get a taste of the policy and diplomacy decisions involved in limiting global warming to no more than 1.5° C. Join us on November 4th for a highly interactive, role-playing game. You and educators from around the state will negotiate a climate deal to address one of the greatest human and environmental challenges of this century, and you'll walk away with the resources to bring this experience back to your own classroom.
The Climate Action Simulation Game uses En-ROADS, a free, easy-to-use, online simulation model to engage students in exploring key technology and policy solutions for addressing global warming. The game will be conducted as a simulated emergency climate summit organized by the United Nations that convenes global stakeholders to establish a concrete plan that limits warming to Paris Agreement goals.
En-ROADS is a great way to engage students across all subject areas in thinking about effective climate solutions and can be an excellent introduction to or follow-up after an energy or climate unit, or after using STEMhero in the classroom. En-ROADS is best suited for the high school level.
---
Can't make it this time? We will host another Climate Solutions Simulation Game during the spring semester. Join the waiting list to be first to know. And, learn more about our other Climate Solutions workshops here.
Date & Time
Location
Online - join from anywhere!
Research Areas