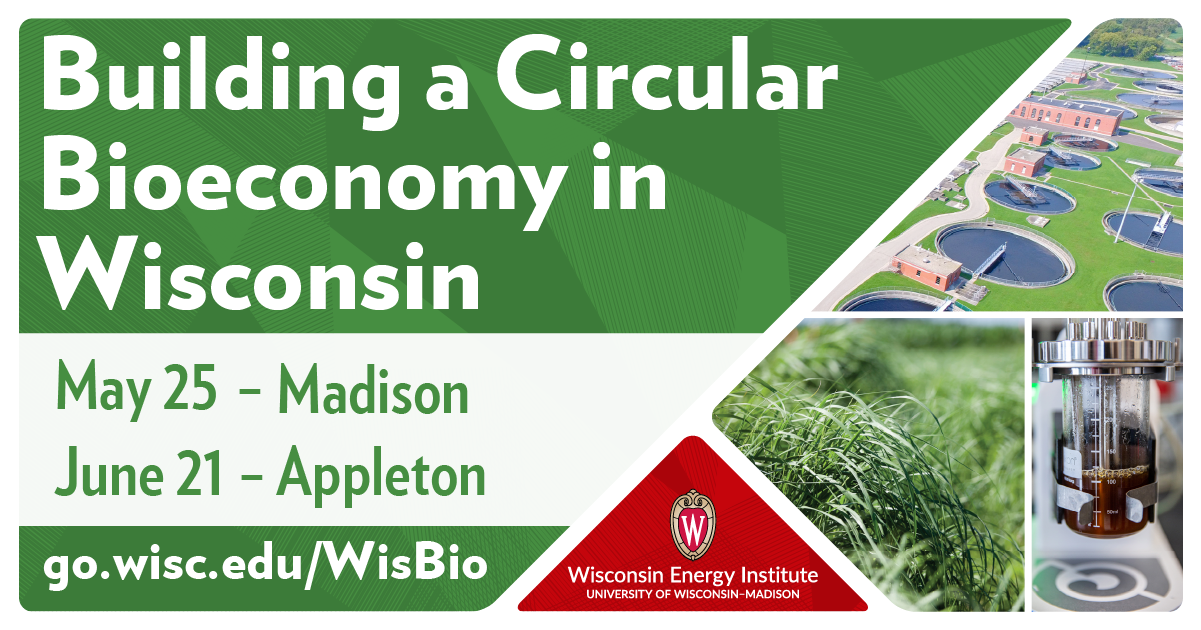 This is one of two workshops next in a series exploring the development of a circular bioeconomy ecosystem in which renewable and waste resources are used as raw materials, substituting biomass-based and recycled carbon for fossil carbon in energy and products. Developing these bio-based production chains and businesses could create jobs, help decarbonize Wisconsin industries, and promote statewide rural economic development. Renewable Natural Gas, Carbon Management, and Sustainable Aviation Fuels and Biobased Chemicals will be discussed.
Workshops on Renewable Natural Gas, Carbon Management, and Sustainable Aviation Fuels and Biobased Chemicals have been held so far. Gaps and opportunities in each of these areas of the bioeconomy have been identified set the stage for future discussions regarding how to advance the bioeconomy in Wisconsin.
Join us in-person on either Thursday, May 25 in Madison or Wednesday, June 21 in Appleton to review and prioritize recommendations for these major areas of Wisconsin's bioeconomy, connect with other stakeholders, and discuss ongoing strategies to build a bioeconomy ecosystem, including a possible membership organization. There is no cost to attend and breakfast and lunch will be provided.
Agenda
9:00 am – 2:30 pm
Breakfast and Networking
Welcome and Introductions
Renewable Natural Gas
Carbon Management
Lunch
Sustainable Aviation Fuels and Biobased Chemicals
Interest in Future Meetings / Organization
Closing Remarks
---
Discussion Facilitators
Tim Baye
Professor of Business Development and State Energy Specialist, UW–Extension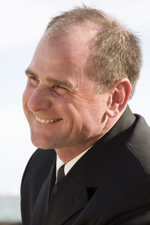 Tim Baye is a professor of business development and a state energy specialist with the University of Wisconsin–Madison, Division of Extension. His research and educational programs serve energy industry executives, professionals, and policy leaders. He has over 30 years' experience in industrial renewable energy projects and policy, in education, executive and advisory capacities. Baye has a bachelor's degree in marketing and economics from UW–Green Bay, master's degrees from Marquette University and the University of Kentucky, and conducted postgraduate work at the UW–Madison.
---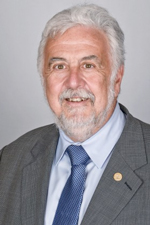 Tim Donohue
WEI & GLBRC Director, Ira L. Baldwin Professor of Bacteriology, UW Foundation Fetzer-Bascom Professor
The Wisconsin Energy Institute Director, Dr. Timothy Donohue, is Ira L. Baldwin Professor of Bacteriology and UW Foundation Fetzer-Bascom Professor at the University of Wisconsin–Madison. Dr. Donohue is an internationally-recognized expert on bio-and genome-based conversion of renewable resources into valuable products. He is a Past President and current Secretary of the American Society for Microbiology, the oldest and largest biological sciences professional society in the country. Dr. Donohue is an honorary fellow of the American Association for the Advancement of Science and the American Academy of Microbiology, has served on numerous federal and international advisory panels, and has led large federally-funded cross-disciplinary graduate training programs. Since 2007, Dr. Donohue has served as principal investigator and director of Great Lakes Bioenergy, a U.S. Department of Energy Office of Science-funded renewable fuels and chemicals research center that has trained some 1000 scientists and engineers, made advances contained in over 200 patent applications and 100 licensed technologies, and provided the scientific knowledge that has formed the basis of five start-up companies.
---
Roxanne Wienkes
Deputy Director, Dane County Department of Waste & Renewables
Roxanne Wienkes has worked for the Dane County Department of Waste & Renewables since 2019 and leads the Department's technical engineering, finance, and administrative functions. Prior to working with Dane County, Roxanne worked for TRC Companies and the Veterans Heath Administration at the VA Hospital in Madison, WI. She has spent nearly equal parts of her career in public service as the "owner/operator" and equal parts in private sector environmental consulting , which gives her a unique perspective on solid waste facility design and operation.
Date & Time
Location
Bubolz Nature Preserve